Drink it all in from the top of Whistler Mountain. Check out how one of our favorite bloggers enjoyed Steaz on her Canadian vacation.
Sep 1st, 2015

Fact: Steaz is participating in Organic Myth Month! We'll be sharing facts and myths about the organic industry throughout the month of September so be on the lookout! #organicfestival
Sep 1st, 2015

Check out why we're known as the tea that plays fair. http://steaz.com/fair-trade/
Aug 31st, 2015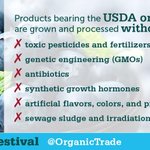 Happy to keep these toxins OUT of Steaz.#organicfestival http://t.co/N6zgYjBL31
Sep 1st, 2015
@RaymondWPS Just what we love to see! Thanks for sharing.
Sep 1st, 2015
@dyanaelbattah Thanks for being a fan. Have a good trip!!
Sep 1st, 2015