[Steazy News] October is Fair Trade Month! 100% Fair Trade Certified, drinking SteaZ is a good way to celebrate! Discover how you can #BeFair here: BeFair.org
Oct 1st, 2014

Congratulations to our Top Steazer of the month! Inbox us your address and a picture, we will make it Steazy for you!
Sep 30th, 2014

[Steaz Battle] #BluePom, #Superfruits, #Energy, #Peach? CHOOSE YOUR TEAM!
Sep 30th, 2014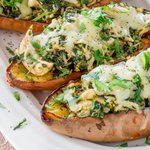 RT@greatist: What did the sleepy sweet potato say to his friend? "I'm stuffed!" http://t.co/cVtz6IUNs1 http://t.co/T8OJJ3D598
Oct 1st, 2014
@JUSTIN_KR3DIBLE Did you check at@WholeFoods?
Oct 1st, 2014
[Steazy News] October is Fair Trade Month! 100% Fair Trade Certified, drinking SteaZ is a good way to... http://t.co/xEmTSAGty2
Oct 1st, 2014